Do you know any Filipino Restaurants to try or a must visit abroad? Let us know and we'd love to hear how Filipino restaurant spread across the globe.
I've been traveling in and out of Singapore earlier this year. Aside from Maputing Cooking video releases, I have another role in the corporate world and whenever I'm in Singapore I'm always in the look out for Filipino restaurants to try. Though I still prefer home cooking, nothing wrong in trying Filipino restaurants abroad and see if they best represent Filipino food here.
Here's a list of Filipino restaurants you should try whenever you are in Singapore,
Turo-Turo Sg

Don't get fooled by its name Turo-Turo, this restaurant has a perfect casual dining set-up and an all-Pinoy inspired ambiance. You will also often hear OPM to feel the vibe, certainly not just about the ambiance but the food is superb too! We've tried Sizzling Sisig, Crispy Pata, Lechon Kawali and Bulalo plus Leche Flan and Halo-Halo for dessert.  We dig right in and our photos won't do justice on how good the food is but check out their menu and you'll surely want to order all. Though a long walk to get there from Expo MRT, it's definitely all worth it, food and the very friendly people from Turo-Turo Sg
Check them out on Facebook : Turo-Turo Sg
Address : 6 Changi Business Park Avenue 1 #01-24 BizHub East 486017
2. Sylog
"Sylog (si-log) – A breakfast-inspired meal (originated from the Philippines) where your choice of meat is served with garlic rice and fried egg."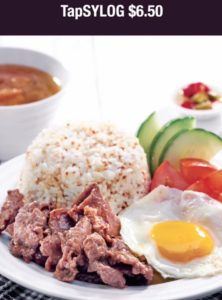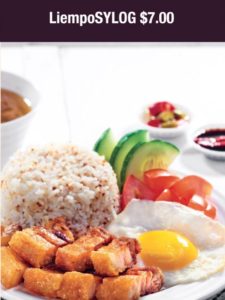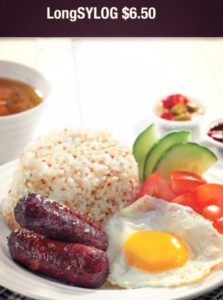 (PHOTO from SYLOG Facebook Page)
  Pinoys or Non-Filipinos will surely fall in-love with this "Si-log". It all started with "Tapsilog" shor for Ta-Tapa, Si-Sinangag, Log-Itlog. Originally intended to be quick breakfast fare but the combo has become so popular that Pinoys opt toeat it for lunch or dinner as well. The recipe has produced a number of iterations (replacing tapa but retaining the si and log) e.g. Tosilogm Longsilog, spamsilog, cornsilog etc.
And here at SY-log you won't ran put of Silog, they even have ChicharonSylog and Danggit Sylog (for limited time)! It comes with soup, lots of dipping sauce (spicy vinegar/soy sauce, lime, Mang Tomas) and slices of cucumber and tomatoes. Next time your craving for Tapsilog, or any "Silog" you know where to go any time of the day.
Check them out on Facebook : Sylog – All-Day Pinoy Breakfast
3. Iskina Cebu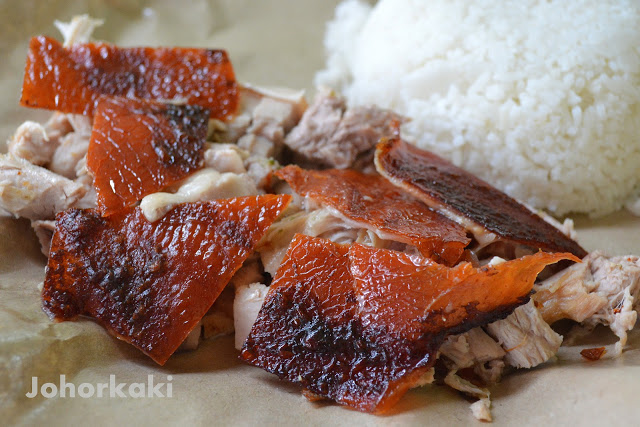 Photo from Johorkaki Blog
The best thing about Cebu roasted pork is the crunchiness and juiciness you can get from every bite. The marinade stays intact in the meat so don't be surprised why the meat tastes heavenly. But some may not like the saltiness of the lechon so be sure to dip it into a sauce made of garlic, vinegar, spices, and herbs and pair your meal with a can of soda.
Visit them at 73A Ayer Rajah Crescent, Singapore
And check them out on Facebook : Iskina Cebu
4. Gerry's Grill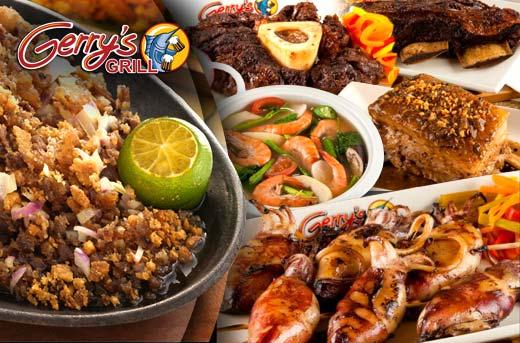 Gerry's offers a menu packed with scrumptious food ranging from grilled seafood, Filipino and Asian favorites and tastefully prepared beermates and Pica-Pica. Gerry's Grill is popular in Manila for a reason, try all of their inihaw (grilled) favorites add your Sisig, Crispy Pata and don't forget some veges like Pinakbet to complete the experience.
You can visit them at 51 Cuppage Rd, #01-12 Starhub Centre, Singapore 229469
5. Jollibee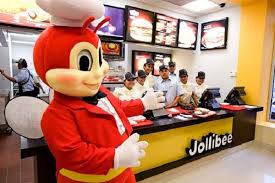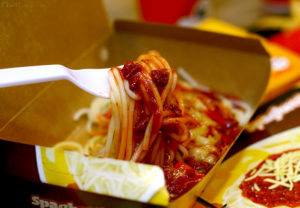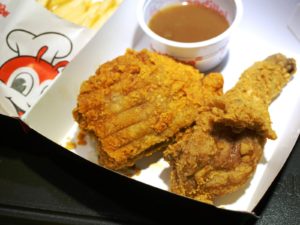 This just got to be every Singapore-based Filipino's dream come true! As of today there's already 3 Jollibee outlets in Singapore and even if I haven't tried it's outlets here in Singapore, I would definitely recommend that this fast-food chain is truly a taste of Pinoy.
You can visit them at
Lucky Plaza
04 Orchard Road, #06-048A Lucky Plaza, Lucky Plaza, Singapore 238863
Jollibee Square 2
10 Sinaran Drive #01-07 to 12 Singapore 307506 (Novena MRT)
Changi City Point
Changi City Point #01-37/38, 5 Changi Business Park Central 1, Singapore 486038 (Expo MRT)
Sa mga kabayan dyan sa Singapore, do you know any other Filipino restaurant we can add to the list? Send us an email or comment below! 😀