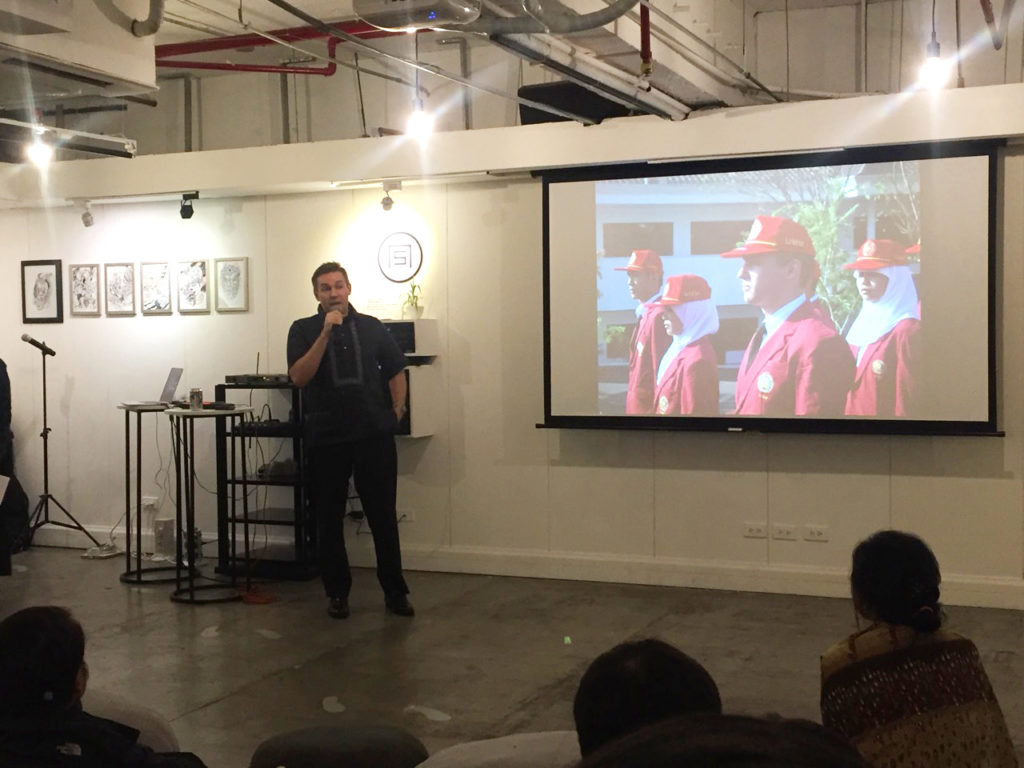 Chris Urbano's presentation"Magandang Gabi sa inyong lahat!"– That's how Chris Urbano started his talk. Just by greeting the guests in tagalog left all of them amused.
Chris Urbano is one of the guests in the recent PechaKucha Night Manila Volume 10 held at A Space in Makati. They invited guest speakers to talk about arts, culture, and language in line with the celebration of Linggo ng Wika. Urbano was chosen to share his experience as a foreigner living in the Philippines and how he connected to people through the use of food and language.
"It's the language that allows you to see into a culture and see into people's hearts and minds, and what they value."
In 20 slides, Chris Urbano shared his story on living in other country, learning their language and their culture. He first started as a student in Indonesia (yes, he can speak Bahasa too!) and went to the Philippines because of an important reason (what is it? Check out more below!)
"And where I found the best place to learn Filipino is not here in Makati, in BGC, or the conyos, or university students, or professionals. It was actually in the palengke"
While Chris is here in the Philippines, he found a way to practice his tagalog better by talking to the ales and manongs in the market. That's a fast way to learn the language where you don't need to pay for a formal education. Exchanging conversations with pinoys in the market is surely the best way to learn tagalog. You don't just practice but also learn a lot about the language, especially the modern terminologies and mixes in the language.
Have a better look on his experience at PechaKucha Night Manila in this video:
Chris Urbano is excited to share with you his upcoming cookbook! If you're interested to grab a copy, send an email at chris@maputingcooking.com.
If you haven't subscribed to our pages yet, make sure you do and give our videos a thumbs up!
Follow us on Social Media for more Filipino Food Updates
FB: https://www.facebook.com/maputingcooking
Twitter: https://twitter.com/maputingcooking
Insta: http://instagram.com/maputingcooking
Get the newsletter: http://eepurl.com/PZeAH