You can ADOBO almost anything. You can choose from chicken, pork, or even kangkong but one of the simplest I've tried is Adobong Pusit. Adobong Pusit has darker color than most of the Adobo dishes because of the squid ink. But nevertheless, it's still delicious! Try this recipe at home and let me know what you think.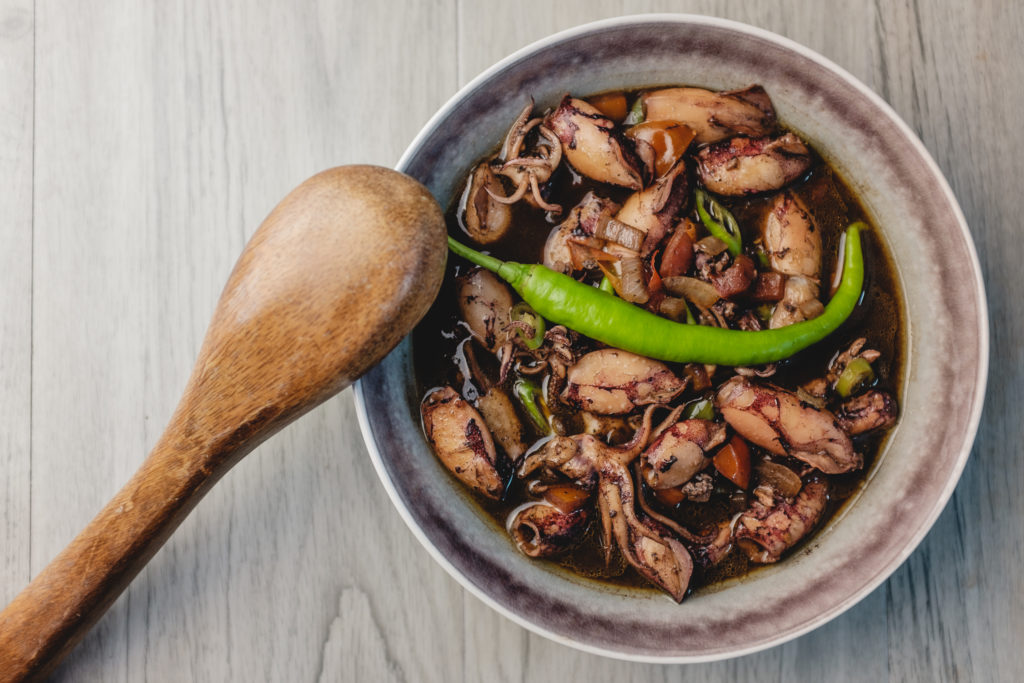 Adobong Pusit Recipe
Recipe type:
Lunch/Dinner
Ingredients
1 kilo squid baby or medium sized squid
¼ cup (60 ml) cooking oil
5 cloves garlic, chopped
1 medium onion, chopped
3 pcs tomatoes, chopped
¼ cup (60 ml) soy sauce
¼ cup (60 ml) vinegar
½ cup (120 ml) water
3 pcs green chilies
to taste salt and pepper
Procedure
In a large mixing bowl, clean the squid under running water to clean them. Remove the head along with the innards and feel for a hard, clear, and plastic-like filament, tug it and pull it out. Set the squid and the tentacles aside.
In a shallow frypan, heat the oil and sauté the garlic, onion and tomatoes in medium heat for 2-3 minutes or until fragrant. Add in the squid meat, head, and tentacles and sauté for 1 minute.
Add in the vinegar, soy sauce, and water. Simmer it for 5 minutes. Do not simmer it for a long time to prevent the squid from getting a gummy texture.
Add in the green chilies and simmer for 2-3 minutes to give it a spicy kick.
Serve alongside steaming white rice.
Watch the video recipe here:
Don't forget to subscribe to the channel if you like this video, and give us a thumbs up!
Follow us on Social Media for more Filipino Food Updates
Get the recipe – http://maputingcooking.com/recipe/okoy/
FB: https://www.facebook.com/maputingcooking
Twitter: https://twitter.com/maputingcooking
Insta: http://instagram.com/maputingcooking
Get the newsletter: http://eepurl.com/PZeAH