Chicken sotanghon is a delicious chicken noodle soup served as a comfort food, or when you're feeling a bit under the weather. The use of vermicelli noodles, and atsuete or annatto seeds makes this dish an interesting one to make. Make this one at home, kabano!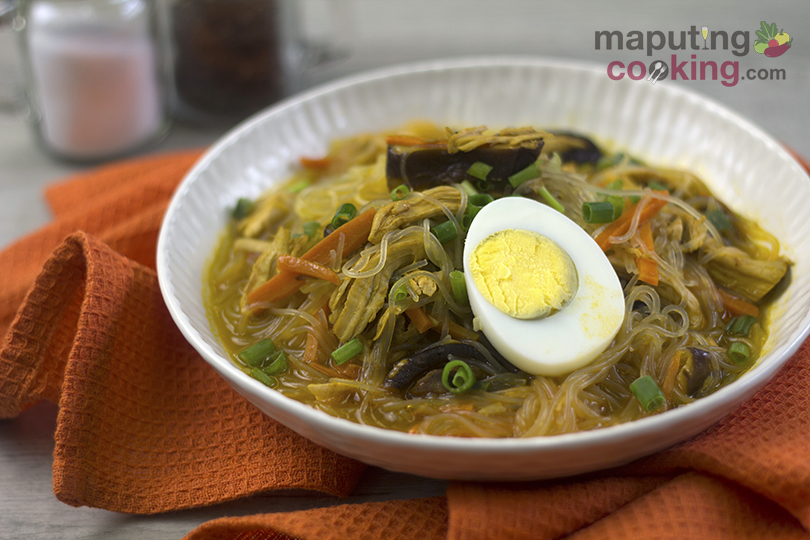 Annatto Infused Chicken Noodle Soup | Chicken Sotanghon Recipe
Ingredients
½ kilo Chicken Breast, boiled and torn into strips
2 tbsp Garlic, chopped
½ cup Onion, chopped
3 cups Chicken Stock (from boiling chicken breast)
3 cups Water
1 cup Carrots, julienned
½ cup Wood-Ear Mushroom, sliced (other types of mushrooms may be substituted)
200 grams Vermicelli Noodles
1 cup Annatto Water
¼ cup Green Onions, chopped
¼ cup Fish sauce
To Taste Salt and Pepper
Procedure
Prepare the Annatto water by combining 2 tbsp of annatto seeds in 1 cup of water in a small saucepan. Boil for 5 minutes or until the water is changed to an orange color. Strain the annatto-infused water through a strainer and set aside.
In a deep pot, heat oil and sauté your garlic and onion over medium heat until fragrant. Add in the chicken breast, carrots and mushrooms. Toss and cook for 3-5 minutes for flavor development.
Pour in the chicken stock and water and let it boil for 10 minutes.
Add the annatto water and vermicelli noodles. Season it with fish sauce, salt, and pepper and let it simmer for 10 more minutes before cutting the heat.
Serve and top with green onions and hard-boiled egg.
Watch the recipe video here:
Chris Urbano is excited to share with you his upcoming cookbook! If you want to grab a copy, email chris@maputingcooking.com .
Don't forget to subscribe to the channel if you like this video, and give us a thumbs up!
Follow us on Social Media for more Filipino Food Updates
Get the recipe – http://maputingcooking.com/recipe/okoy/
FB: https://www.facebook.com/maputingcooking
Twitter: https://twitter.com/maputingcooking
Insta: http://instagram.com/maputingcooking
Get the newsletter: http://eepurl.com/PZeAH