Arrozcaldo or lugaw is the filipino adaptation of Chinese Congee. This dish is usually served as a comfort food for the ill or it can also be a breakfast food. This delicious arrozcaldo is topped with crispy garlic bits, onion leeks, and hard boiled egg. Try this easy recipe and make your own at home.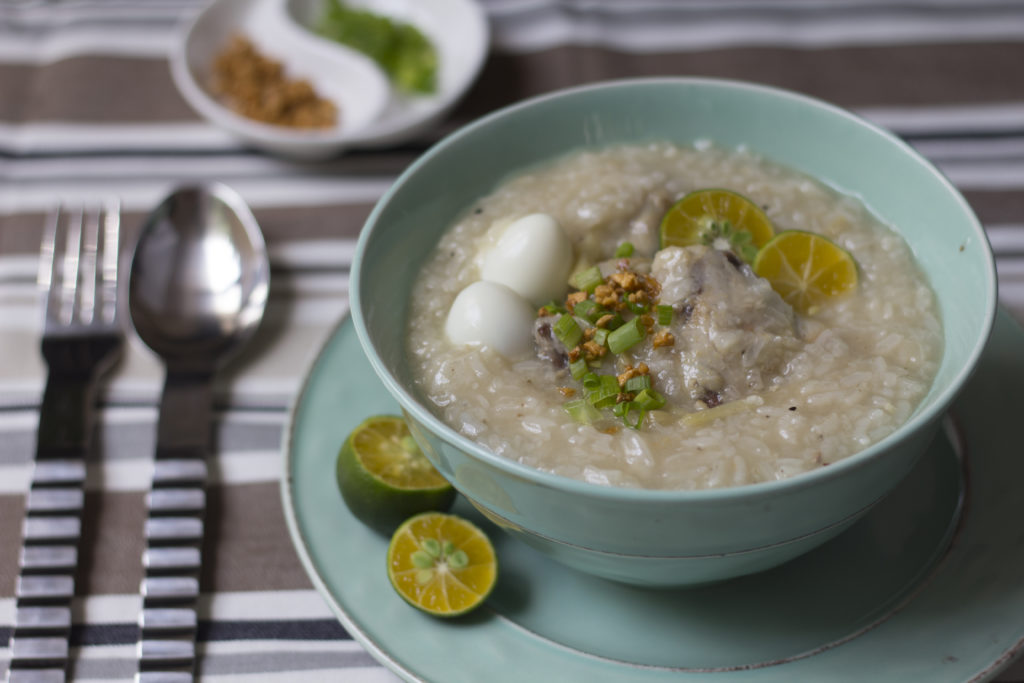 Arrozcaldo Recipe
Ingredients
1 whole chicken, cut into 12 pieces (or 500 grams diced chicken breast can be used)
½ cup Garlic, diced finely
¼ cup Ginger, cut into thin strips
½ cup Onion, finely chopped
1 cup uncooked rice
1 cup uncooked glutinous rice
2 liters Water
2 cups of chicken stock (or equivalent in organic stock powder)
2 tsp Fish sauce
2 tsp Black Pepper, ground
As needed Cooking Oil
Optional Toppings:
Boiled Egg, Fried Garlic, Chopped Spring Onions, Calamansi and Fish sauce
Procedure
In a large cooking pot, fry half of the garlic in oil until crispy and golden brown. Remove garlic and set aside, retaining the garlic infused cooking oil in the pot.
In the same pot sauté the ginger, remaining garlic and onion until brown. Add in the chicken pieces and sauté until browned. Season with the fish sauce and pepper.
Add in the water and let it boil. Add the regular rice followed by the glutinous rice and stir continuously until rice is cooked. You can simmer off water, or add more water as required to reach a porridge like consistency.
Serve the arroz caldo in bowls along with boiled egg, fried garlic, spring onions and fresh calamansi juice.
Watch the recipe video below:
https://youtu.be/nH2uNRQyl2o
Chris Urbano is excited to share with you his upcoming cookbook! If you want to grab a copy, email chris@maputingcooking.com .
Don't forget to subscribe to the channel if you like this video, and give us a thumbs up!
Follow us on Social Media for more Filipino Food Updates
Get the recipe – http://maputingcooking.com/recipe/okoy/
FB: https://www.facebook.com/maputingcooking
Twitter: https://twitter.com/maputingcooking
Insta: http://instagram.com/maputingcooking
Get the newsletter: http://eepurl.com/PZeAH