"Ginataan" is a term meaning "to cook something in gata". Gata is the tagalog term for coconut milk. Today, we're going to cook a poultry dish that is Creamy and Spicy- Ginataang Manok Bicol style. This Bicol dish is a recipe that I learned from my house helper. I like very spicy food and curries having travelled to different parts of southeast asia so I really love cooking this one at home.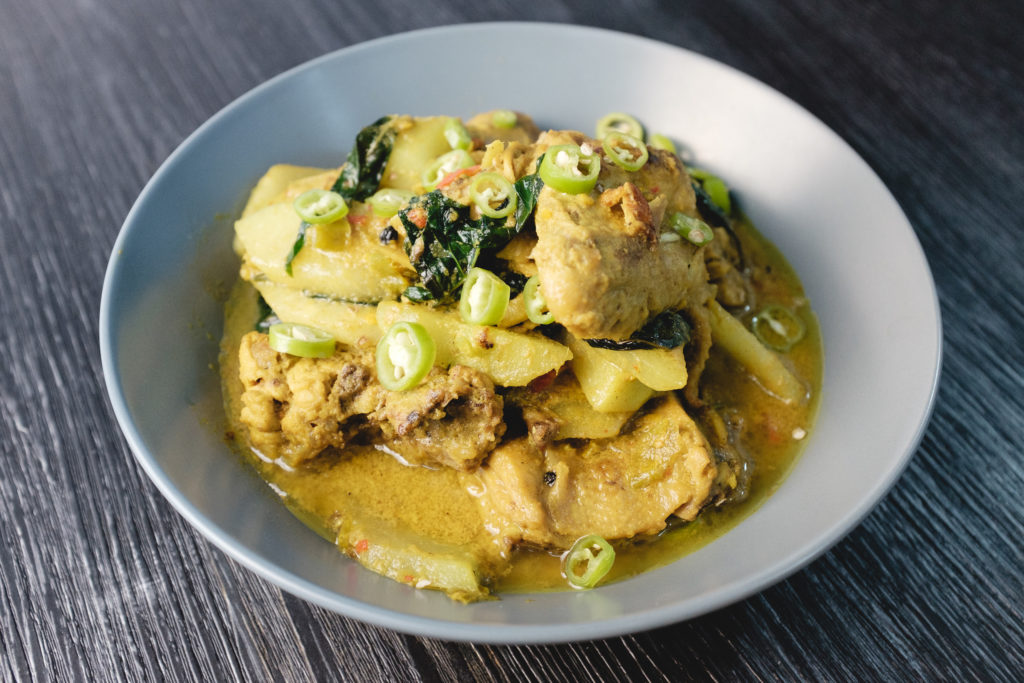 Trying this out today? Check out the ingredients list and step by step cooking procedures:

Recipe type:
Lunch/Dinner
Ingredients
2 Tbsp Cooking Oil
2 tbsp Ginger, sliced into thin strips
2 tbsp Garlic, chopped
½ cup Onion, sliced
1-1 ½ kilo Chicken, cleaned and chopped into portions (12 pieces)
1 Tbsp Whole Peppercorns
1 ½ cup Coconut Cream (Kakang Gata)
1 cup Water or Chicken Broth if available
2 cups Green Papaya or chayote, cut into wedges
¼ cup Fish sauce (Fish Sauce)
2 tsp ground turmeric powder
1 cup Chili Leaves/Malunggay Leaves, picked and washed
2 – 3 pcs Red birdseye Chilies, finely chopped
4 – 6 pcs Green Chilies, thinly sliced
Procedure
In a large pot, Heat cooking oil and sauté ginger, garlic and onion.
Bring the pot to high heat before adding in the chicken and browning it on all sides. Season with salt and whole peppercorns while it cooks.
Pour in water and coconut cream and turmeric powder and bring to boil. Then lower the heat and simmer for 25-30 minutes, or until the coconut milk begins to separate.
Add in the green papaya (or chayote), and the sliced long green chillis and simmer for 5 minutes more until its cooked.
Add the chilli leaves or malunggay and sit through until wilted from the heat of the stew. Season with fish sauce – you can vary the amount according to taste.
Sprinkle finely chopped red chilies and serve with plenty of white rice and water – you're going to need both!
Watch the recipe video here:
If you liked this video, hit the thumbs up button and share it with our kabano and kababayans abroad! Help me spread the filipino food and food culture global.
Chris Urbano loves Filipino food and if you love it too, Don't forget to subscribe! http://bit.ly/1AZnqao and share this video, or follow at the links below:
www.maputingcooking.com (Find ALL the recipes from the show!)
FB: https://www.facebook.com/maputingcooking
Twitter: https://twitter.com/maputingcooking
Insta: http://instagram.com/maputingcooking
Get the newsletter: http://eepurl.com/PZeAH