It was once believed that the dish Chop Suey originated in America, made by the early Chinese Immigrants there. It came from the word "Tsap Seui" meaning Miscellaneous Leftovers. But some suggested that it is named chop suey because it's "Chopped Sewage."
It is typically a mixture of vegetables; stir fried with meat and sometimes glandular organs and the sauce is thickened using slurry. We Pinoys have adapted and made our own version to it. We add in carrots, snow peas, cauliflower, broccoli, cabbage and chayote plus a mixture of seafood and meat like chicken, pork, shrimp, fish balls, liver and gizzard. It is a mixture of up to 10 types of vegetables but hey, it all goes well together. We usually keep the sauce clear or white that some adds in milk for a creamier version.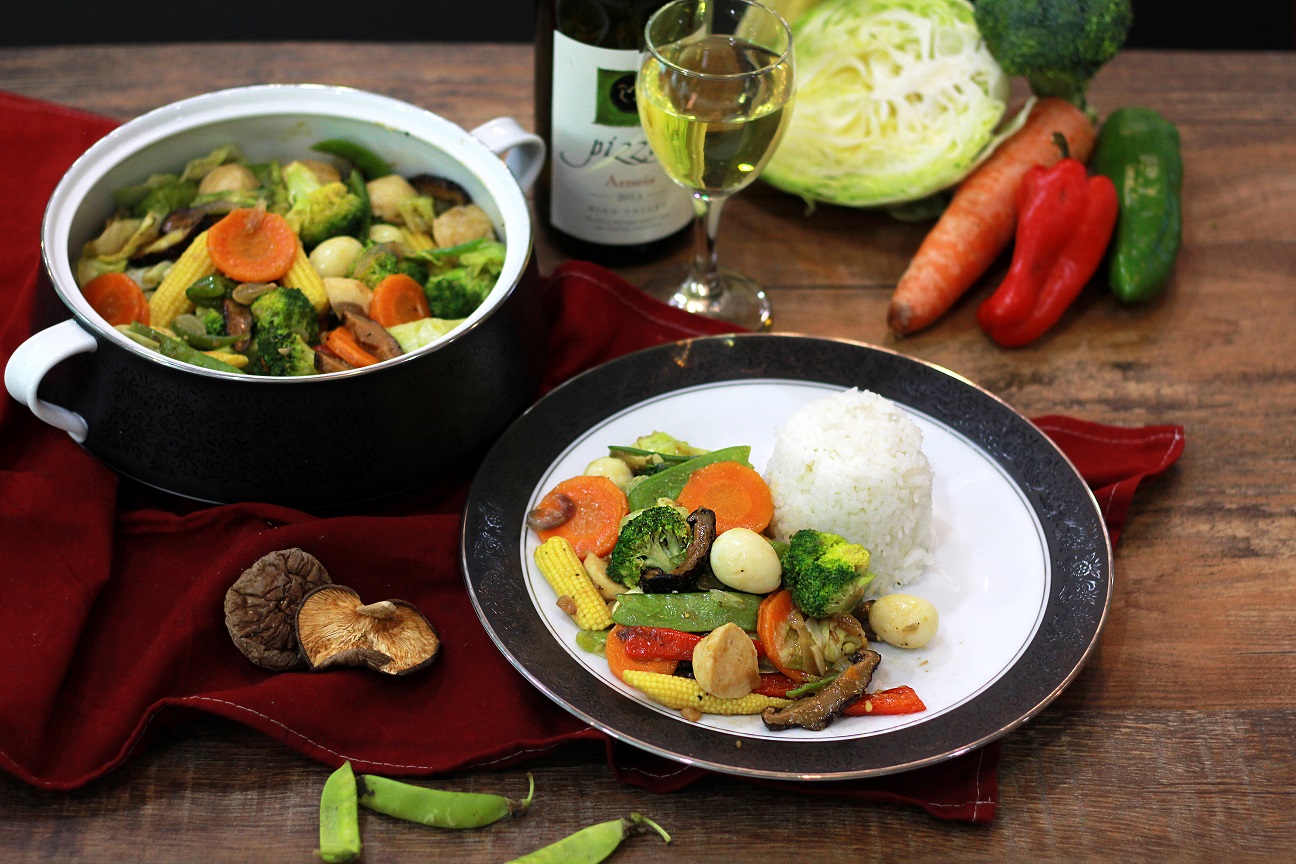 Chop Suey with Quail Eggs & Squid Balls
This is really a staple food during fiestas and party as it adds a vegetable variation in the menu.
Ingredients
4 cloves Garlic, chopped
1 medium Onion, chopped
1 piece Carrot, sliced into rings
1 piece Chayote, sliced on a bias
1 small head Broccoli, cut into florets
1 small head Cauliflower, cut into florets
1 cup Snow Peas, trimmed
½ head Cabbage, chopped
1 medium Red Bell Pepper, sliced into strips
1 medium Green Bell Pepper, sliced into strips
3 pieces Fresh or Dried Shitake Mushroom, sliced
1 can Baby Corn, sliced in half
12 pieces Quail Eggs, hardboiled and peeled
10 pieces Fish or Squid Balls, cut in half
100 grams Chicken Liver, marinated in 2 Tbsp Soysauce
100 grams Shrimp, peeled and deveined
100 grams Pork Liempo, sliced into cubes
½ cup Water
3 Tbsp Oyster Sauce
2 Tbsp Cornstarch, diluted in ¼ cup water
3 Tbsp Cooking Oil
To Taste Salt and Pepper
Procedure
Prepare the vegetables except the cabbage, bell peppers, baby corn and mushroom, by blanching them each in salted boiling water and shocking it in cold water. This will ensure that the color and crispness of the vegetables will remain.
Heat the oil and sauté the garlic and onion. Add in the pork liempo and sauté until golden brown. Add in the mushrooms followed by the chicken liver, shrimp and squid balls.
Pour in the water and oyster sauce and let it simmer. Add in all the blanched vegetables with the cabbage, bell peppers and baby corn.
Mix everything and add in the slurry until desired thickness is achieved. Adjust the seasoning by adding salt and pepper.
Serve over hot rice.