Dynamite came from the Bicol Region in Visayas. It is a long green chili, stuffed, and wrapped in a spring roll, and deep fried. This "pulutan" or finger food is perfect on a friday night with a glass of beer. Balance the spicy flavor with ranch dressing.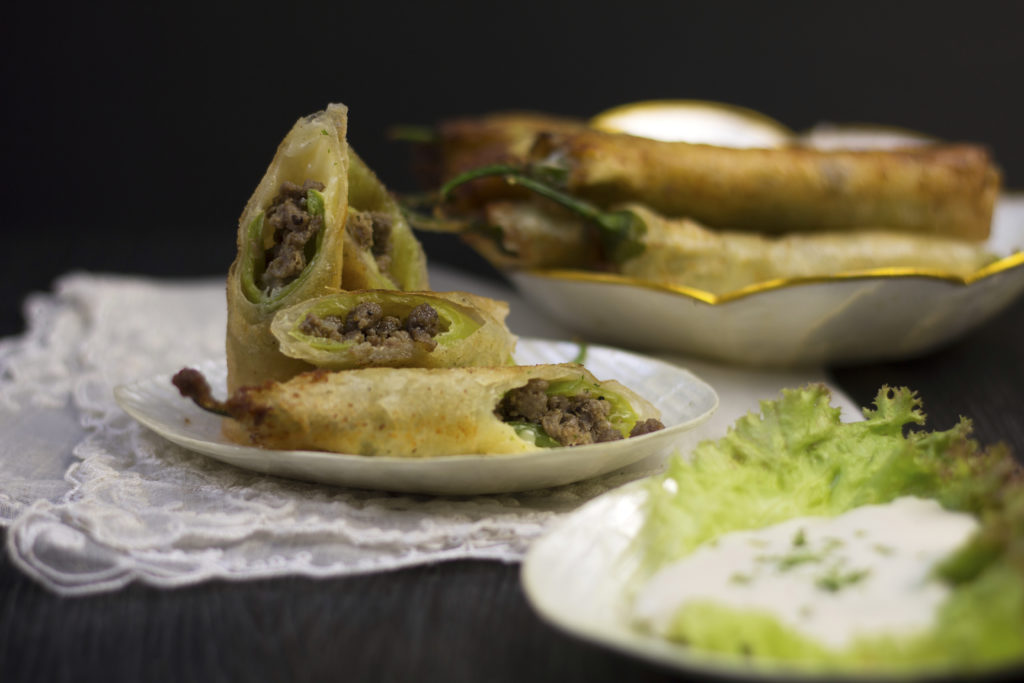 "Dynamite" - Filipino TEXMEX style Spring Rolls
Ingredients
2 tablespoons (30 ml) cooking oil
3 cloves garlic, minced
1 medium red onion, finely chopped
½ kilo ground pork or beef
2 tablespoons taco seasoning (you can use any store bought premix, or just combine ½ tbsp of each: ground cumin, garlic, onion and dried oregano leaves)
½ tsp each of salt and pepper
200 g cheddar cheese, sliced into thin strips about 5 – 7 cm, and make sure a bit shorter than your chilies
30-40 pcs siling pansigang (large / long green chilies usually 10-12cm in length), deseeded and washed with cold water
30-40 pcs lumpia wrappers, about 15 cm diameter (ordinary Chinese spring roll wrappers may be substituted)
Procedure
In a shallow frypan, heat the oil and sauté the garlic and onion until fragrant. Add in the ground meat and taco seasoning. Cook for 10 – 15 minutes, or until the ground meat is browned and cooked through. Set aside to cool.
With a sharp paring knife, cut a 1 cm slit horizontally just under the stem – be sure not tocut all the way through or remove the top entirely. Connecting to this incision, another long slit down one side of the chili so as to create an opening flap sufficient to remove the seeds and stuff the chili.
Remove seeds from the chilies, rinse under cold water and let dry.
Take a chili and stuff inside a teaspoon of the taco meat mixture – or as much as will fit – along with a strip of cheese. Close the incision around the stuffed chili.
On a flat surface, place a single lumpia wrapper and roll the chili as you would an ordinary spring roll, except only close one end of the wrapper, the 'stem' end of the chili should be left open to leave the iconic 'wick' protruding from the Dynamite. Dab some water on the final part of the wrapper to help seal it as needed.
In a fry pan, pre-heat some cooking oil to 350F and shallow fry the Dynamite, turning once during cooking for 5 – 7 minutes or until crisp and golden brown. Using tongs or a slotted spoon, transfer cooked Dynamite to a paper towel to remove excess oil prior to serving
Serve hot with a ranch dressing and a cold glass of beer!
Watch the Recipe video here:
Thank you The Maya Kitchen for having us again in your kitchen!
Chris Urbano loves Filipino food and if you love it too, Don't forget to subscribe! http://bit.ly/1AZnqao and share this video, or follow at the links below:
www.maputingcooking.com (Find ALL the recipes from the show!)
FB: https://www.facebook.com/maputingcooking
Twitter: https://twitter.com/maputingcooking
Insta: http://instagram.com/maputingcooking
Get the newsletter: http://eepurl.com/PZeAH