Poque Poque Pizza
Poque Poque is an Ilocos term for Eggplant. A famous local dish in Laoag, Poque Poque Pizza is a vegetarian pizza with tomatoes, cheese, eggs, and of course eggplants in it. If you're looking for a not so cheat day in your diet, try making this one at home.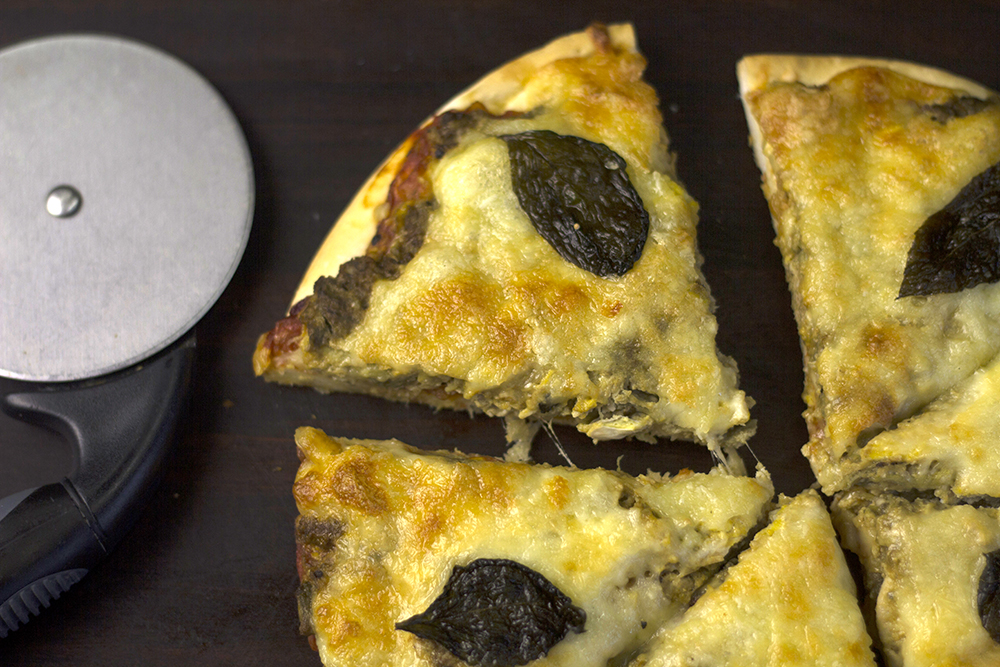 Eggplant Fritata Pizza | Poque Poque Pizza
Ingredients
2 pcs 8" round store bought pizza base (or you can make your own fresh)
1 tbsp garlic, chopped
¼ cup onion, chopped
½ cup tomatoes, chopped
3 tbsp tomato paste
6-8 pcs eggplant, roasted and peeled
5 pcs eggs, beaten
2 tbsp soy sauce
2 cups mozarella or cheddar cheese, grated
Fresh basil to garnish
Cooking oil as required
salt and pepper to taste
Procedure
Pre-heat your oven to 350F.
Roast eggplants directly on a gas stove on high heat until the skin is charred on all sides. Use tongs in turning or hold the stem so you won't get burned. Peel the skin once cooled and set it aside.
In a shallow frypan, heat the oil and sauté your garlic, onion and tomatoes on medium heat for 3-5 minutes or until the tomatoes soften. Slightly mash the tomatoes and add the tomato paste and water until it is chunky. Season with salt and pepper and simmer for 2 minutes. Set aside tomato mixture.
In another shallow frypan, add the roasted eggplant and the eggs. Stir gently until the consistency becomes similar to scrambled eggs.
Pour the soy sauce and season with salt and pepper. Set eggplant mixture aside.
Get your pizza dough and start assembling the pizza. First, top it with the tomato mixture. Then sprinkle with half of the grated cheese and add in the eggplant mixture on top.
Finish it off by topping everything with the remaining cheese.
Bake in the oven for 10 minutes or until cheese melts. Serve while hot.
If you liked this video, hit the thumbs up button and share it with our kabano and kababayans abroad! Help me spread the filipino food and food culture global.
Chris Urbano loves Filipino food and if you love it too, Don't forget to subscribe! http://bit.ly/1AZnqao and share this video, or follow at the links below:
www.maputingcooking.com (Find ALL the recipes from the show!)
FB: https://www.facebook.com/maputingcooking
Twitter: https://twitter.com/maputingcooking
Insta: http://instagram.com/maputingcooking
Get the newsletter: http://eepurl.com/PZeAH