Sick of the old Filipino style spaghetti? Care for a different Filipino style pasta? We got you covered! This Filipino style pasta has the perfect Pinoy ingredient for you: longganisa! Want to know how to cook Filipino style pasta?
Chris Urbano of Maputing Cooking hits the Paco Market to find ingredients for his fusion Thyme Longganisa Fusili, paired with Victorian Sangiovese-Shiraz. Features expert taste testers Chefs Irene and Louie, who join Urbano as he tours this iconic Manila wet market and then cooks up a storm back at the Chefs Den Culinary Institute in Quirino, Manila.
Fusilli are long, thick, corkscrew shaped pasta. The word fusilli presumably comes from fuso, as traditionally it is "spun" by pressing and rolling a small rod over the thin strips of pasta to wind them around it in a corkscrew shape, much like a modern Turkish spindle.
Incorporated with Longganisa which is a famous breakfast meal in the Philippines paired with egg and fried garlic rice. This sweet meaty and fatty sausage is one of the best appetizing dishes in town. Filipino Pork Longganisa, a Pork Sausage Recipe is the best in making of longganisa.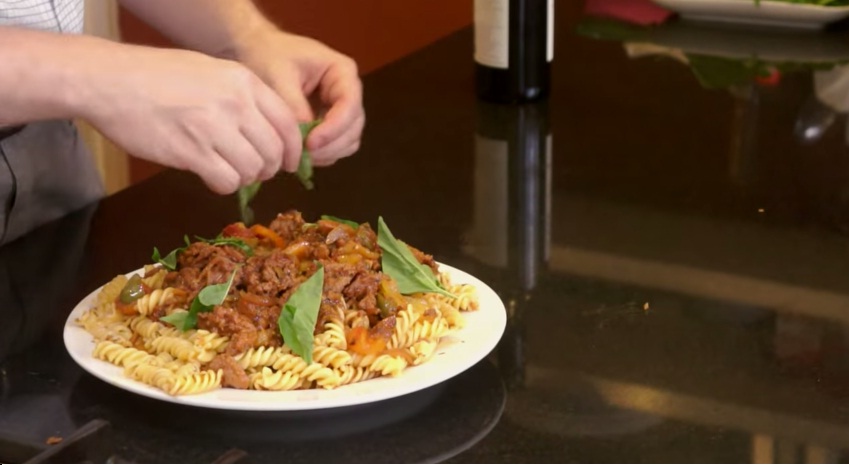 Special Filipino Pasta by Maputing Cooking (Feat. Chefs Irene and Louie)
This Filipino style pasta has the perfect Pinoy ingredient for you: longganisa!
Ingredients
garlic
olive oil
onions
bell pepper
chili (optional)
longganisa
thyme
wine / wine vinegar
tomatoes
salt & pepper
chili leaves
Procedure
On a separate pan, fry the longganisa.
Saute garlic and onions.
Add in bell pepper and chili, longganisa.
Toss a little before adding the thyme then the wine (1/2 cup).
Add the tomatoes (either fresh or canned).
Season with salt and pepper.
Finish with chili leaves on top.
Wine – Sangiovese Shiraz – Spicy, savoury, mouth-filling and delicious. A wonderful medium to full bodied wine that combines the plump juiciness of Shiraz with the earth and savouriness of Sangiovese. Perfect for spicy BBQ's.