Famous Main Stay: Menudo
Why famous main stay? Well, Menudo is always present in every birthday party, festive celebration and even on your local "Carinderia" and "Turo-Turo" (Street Food Stalls). It is a blend of bite sized meat pieces with potatoes and carrots simmered on a rich tomato gravy-like sauce. Every family has their own version, some would add hotdogs, and some would add raisins.
We found some traces that we got this from the Mexicans. They have the same dish, "Menudo Soup," but uses pork or calves feet and tripe. It can be the same as our "Callos." But regardless the version, the distinct Menudo taste still remains the same.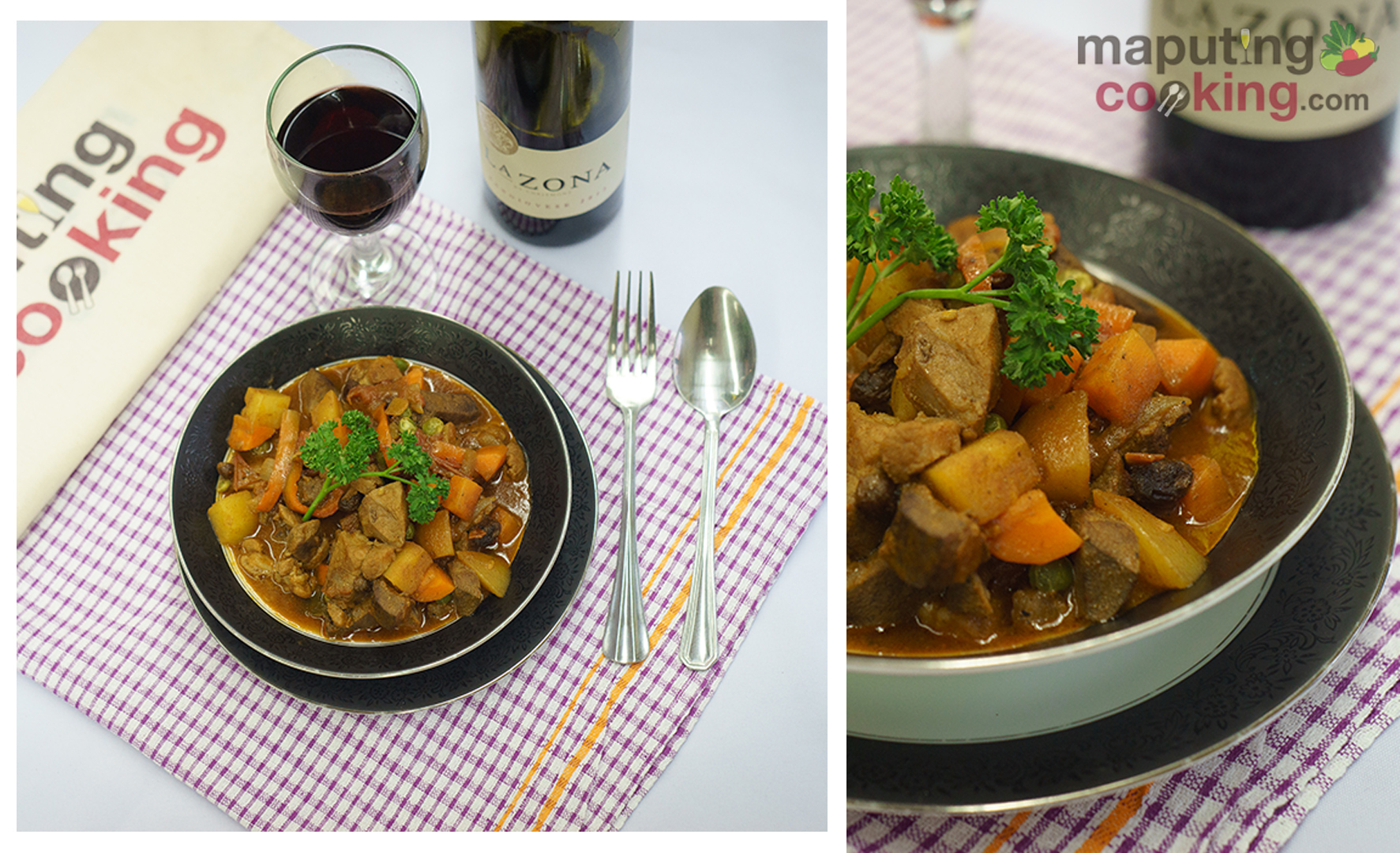 Famous Main Stay: Menudo
Ingredients
2 Tbsp                                       Cooking Oil
3 cloves                                     Garlic, chopped
1 medium                                  Onion, chopped
5 pieces                                    Tomatoes, chopped
2 pcs                                         Bay Leaf
1 tsp                                          Salt
1 tsp                                          Pepper
¾ kilo                                       Pork, cut into small cubes
½ cup                                       Tomato Paste
2 cups                                      Water or Chicken Broth
¼ kilo                                       Pork Liver, cut into small cubes and marinated in 2 Tbsp Soy Sauce
3 pcs                                       Potatoes, cut into cubes
2 pcs                                       Carrots, cut into cubes
¼ cup                                      Raisins
¼ cup                                      Frozen Green Peas, thawed out
1 pc                                         Green Bell Pepper, cut into strips
According to Taste                  Patis (Fish Sauce)
Procedure
In a pan, heat cooking oil and sauté garlic and onions until translucent. Add in the tomatoes and mix until soft and wilted. Add in the bay leaf, salt and pepper.
Add in the pork and sauté for five minutes. Add in the tomato paste and mix well.
Pour in the water and let it boil. Once boiling, add in the pork liver and let it simmer for 5 minutes.
Add in the potatoes and carrot and cook for 10 minutes until they are tender.
Follow the raisins, green peas and bell pepper. Check the taste and add more patis if needed. Simmer for 5 minutes more.
Serve with steaming hot rice.
Watch the Recipe video as Chris Urbano cooks this dish from scratch! This dish can be paired with Chrismont Lazona Sangiovese. Check out the best place to get wine at www.winery.ph/
If you want to know more about Filipino Food, pre-order Chris Urbano's cookbook! Email at chris@maputingcooking.com
Chris Urbano loves Filipino food and if you love it too, Don't forget to subscribe! http://bit.ly/1AZnqao and share this video, or follow at the links below:
www.maputingcooking.com (Find ALL the recipes from the show!)
FB: https://www.facebook.com/maputingcooking
Twitter: https://twitter.com/maputingcooking
Insta: http://instagram.com/maputingcooking
Get the newsletter: http://eepurl.com/PZeAH
Suggestions on new recipes we should cook? Please tell us and we'd definitely consider them! Have a great day ahead!