This leche flan is PERFECT for your Noche Buena celebration this Christmas with family and friends. Spice up your Leche Flan with this delicious twist putting back the "special" in your leche flan!
Leche flan, creme caramel or caramel pudding is a Christmas dessert that is popular in the Philippines during special occasions, and at every Filipino Christmas dinner. Leche flan is an easy Christmas dessert recipe made up of egg yolks, milk and caramelized sugar on top! What makes a special leche flan is if you make it a melt in your mouth, smooth, and creamy leche flan that your guests will surely love.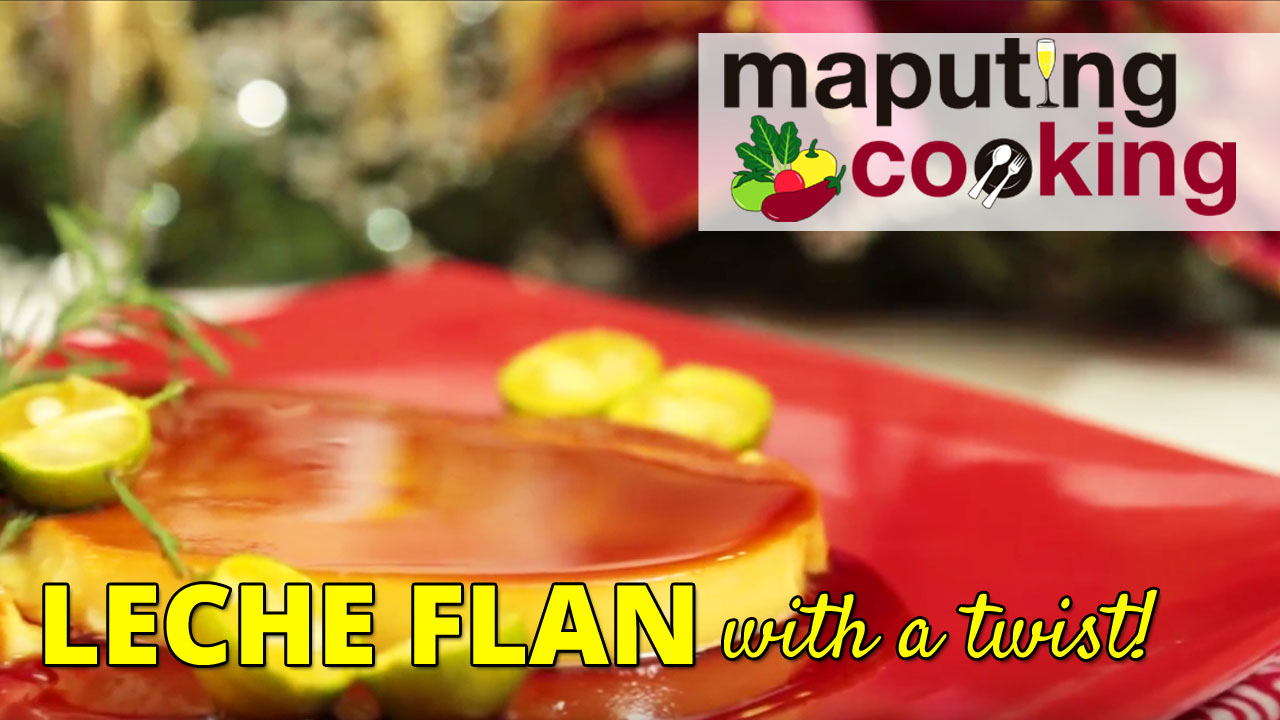 In this Maputing Cooking episode, Tagalog speaking Australian Chris Urbano innovates the leche flan by infusing calamansi and rosemary in his leche flan mixture! Features a special Christmas guest, Kristel Urbano!
Tara, luto tayo?

Filipino Christmas Leche Flan Recipe by Maputing Cooking
Perfect Christmas Filipino Dessert
Ingredients
10 egg yolks
1 cup fresh milk
1 cup condensed cream / milk
1 cup sugar
3-4 Rosemary sprigs
kalamansi rind for the infusion
vanilla essence
For the caramel, you need about 2 tablespoons sugar per llanera
cheesecloth
Procedure
Make the leche flan mixture by combining the condensed cream, fresh milk, a hint of vanilla essence with rosemary sprigs and calamansi rind. Simmer the mixture for twenty minutes at a very low heat so it will not get burned.
Prepare the 10 egg yolks. Combine it with the 1 cup sugar and the rosemary and calamansi infused leche flan mixture. Strain the mixture as you combine it with the egg yolks to remove the rosemary sprigs.
Get your cheesecloth or katsa cloth to strain the mixture. Strain it once or twice to ensure that the big particles are removed and only the liquid is retained. This will make your leche flan coming out creamier.
Put 2 tablespoons of sugar to llanera and put it over low heat to make caramel. Once the sugar turns amber, take it out the heat. As a rule of thumb, the darker the color gets, the more bitter the caramel turns out.
Pour the leche flan mixture to the llanera, then cover it with foil.
Place it in the oven and bake it through water bath. Cook for 45 minutes or until leche flan is cooked. Stick a toothpick to the leche flan. If the toothpick comes out clean, then it's already cooked.
Refrigerate the leche flan to cool it. Once cooled, take it out and serve.
Paired this special leche flan to equally special Australian wine, Muscat! This will definitely tickle your panlasang Pinoy!
Full video here:
Don't forget to subscribe! http://bit.ly/1AZnqao and follow the show at the links below!
Special thanks to:
The Maya Kitchen of allowing us to shoot in your beautiful kitchen!
Visit their site here: www.themayakitchen.com/
8th Floor, Liberty Building, 835 A. Arnaiz Avenue Legazpi Village, Makati City
Barong Warehouse for Mr. Chris Urbano's camisa de Chino!
Visit their site here:
barongwarehouse.com
DeliChef Philippines for all cookwares and appliances used in this episode.Visit their Facebook page: facebook.com/DeliChefPH
Get the wine – www.winebychrisurbano.com
FB: https://www.facebook.com/maputingcooking
Twitter: https://twitter.com/maputingcooking
Insta: http://instagram.com/maputingcooking
Get the newsletter: http://eepurl.com/PZeAH