Ginisang Monggo is a very simple dish that is easy to make at home. It's ingredients are cheap but very healthy. This dish is the Philippines answer to lentil soup. Ginisang monggo is very mushy and the secret in doing this dish is to add a bit of different flavors in it. My version of ginisang monggo has ampalaya leaves in it which adds bitterness to the dish, but also I added tomatoes which gives a little bit of sweetness in it. Filipinos would pair this with any fried food to introduce a saltiness to the dish and it makes a perfect sweet, bitter, and salty balance of flavor to it.
Make sure to try this one at home! Post your photos on facebook and instagram and tag us so we can feature it on our page (@maputingcooking)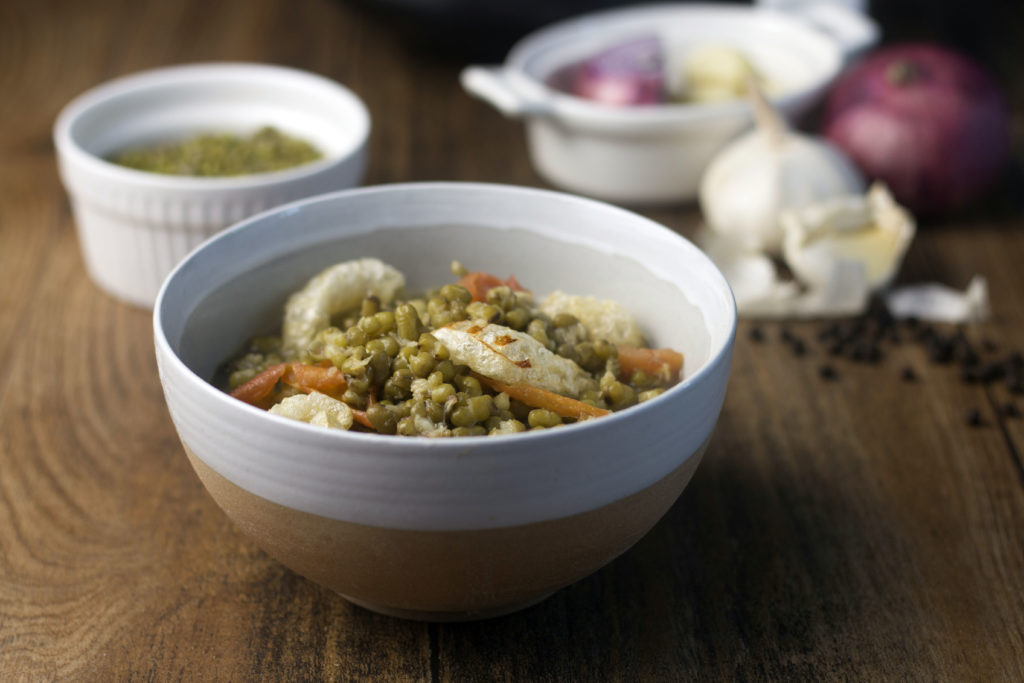 Filipino Ginisang Monggo Recipe
Recipe type:
Lunch/Dinner
Ingredients
1 ½ cup dried mung beans
6 cups water
¼ cup cooking oil
3 tbsp garlic, chopped
½ cup onion, chopped
2 pcs medium tomatoes, chopped
1 cup squash, chopped
2 bunches fresh ampalaya leaves (regular spinach leaves may be substituted)
¼ cup fish sauce
to taste salt and pepper
100 grams small dried fish (tuyo / danggit)
Procedure
Wash your mung beans on running water and remove any stones and impurities that float.
In a large pot, transfer the beans and add water. Let it boil for 20-30 minutes or until the beans are tender and slightly mushy.
In a separate pan, heat your oil on medium heat and sauté your garlic, onion, and tomatoes for 3-5 minutes or until fragrant.
Transfer the mixture to the large pot and let it simmer for 10 minutes, occasionally stirring to combine the mung beans mush with the mixture well. Season with fish sauce, salt, and pepper.
Add in your ampalaya leaves and chicharon and simmer it for another 5 minutes and serve.
Watch the recipe video below:
Chris Urbano loves Filipino food and if you love it too, Don't forget to subscribe! http://bit.ly/1AZnqao and share this video, or follow at the links below:
www.maputingcooking.com (Find ALL the recipes from the show!)
FB: https://www.facebook.com/maputingcooking
Twitter: https://twitter.com/maputingcooking
Insta: http://instagram.com/maputingcooking
Get the newsletter: http://eepurl.com/PZeAH