Filipino Fiestas can never be complete without a table full of Filipino Food and today's recipe is one of the famous fiesta food here in the Philippines. Filipino Spring Rolls or Lumpiang Shanghai is an adaptation of the Chinese Egg Rolls or Spring Rolls. It's easy to make lots of this and it's very easy to make at home. You can also do tweaks on this recipe like what I did depending on what twists you like to put in your Lumpia mixture.
Lumpiang Shanghai is typically dipped in a sweet and sour sauce, or tomato sauce. So I'm going to teach you how to make your own tomato dipping sauce from scratch. Make this one at home, kabano!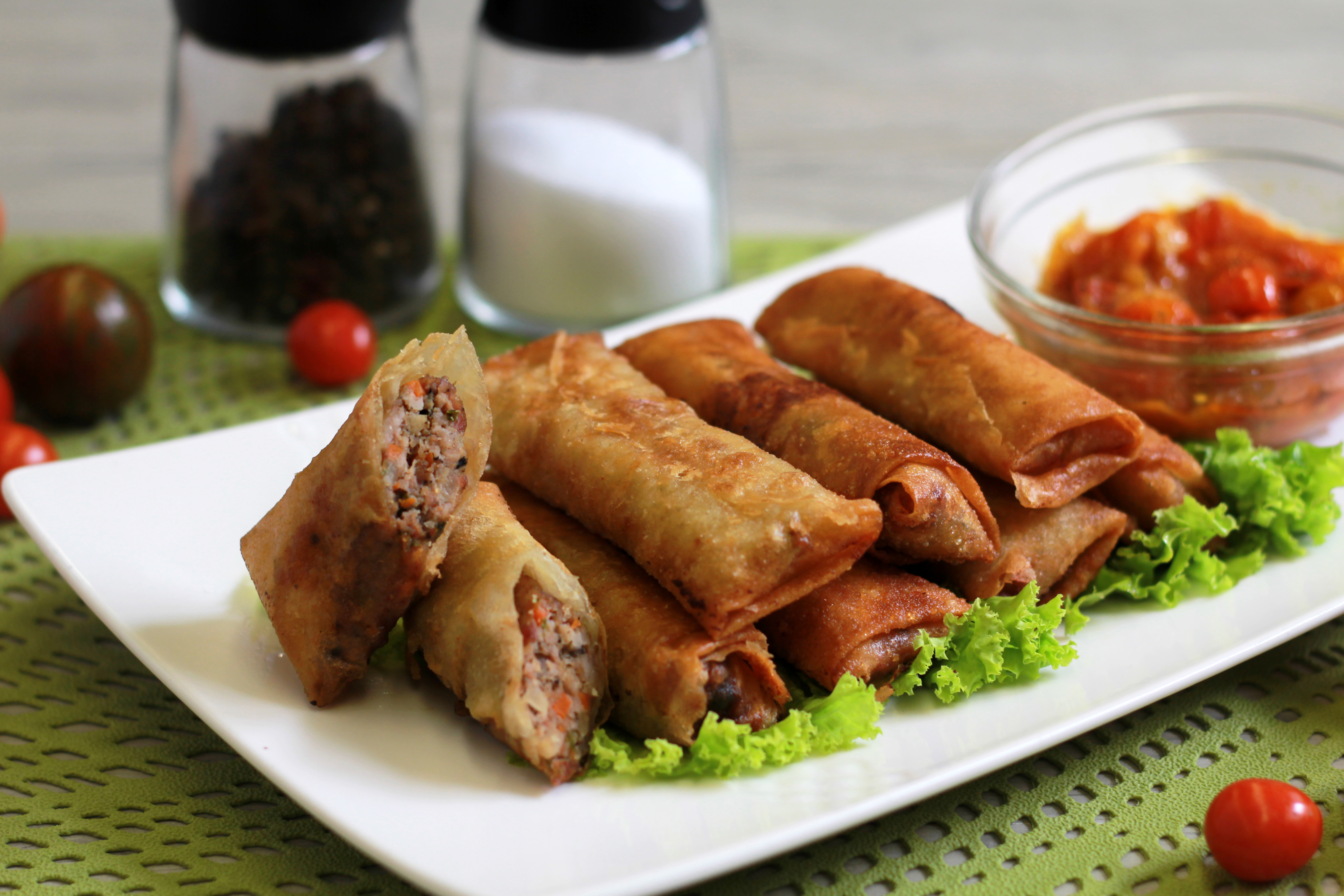 Here's the full recipe:

Filipino Spring Rolls: Lumpiang Shanghai Recipe
Ingredients
¼ kilo ground pork
¼ kilo ground chicken
¼ cup green onions, finely chopped
¼ cup carrots, finely chopped
2 tablespoons garlic, finely chopped
¼ cup shitake mushroom, finely chopped
¼ cup jicama (singkamas), finely chopped
2 tablespoons sesame oil
2 tablespoons soy sauce
½ tablespoon each of salt and pepper
40-50 pcs small lumpia wrapper/rice paper
as needed cooking oil for frying
Procedure
In a large mixing bowl, mix together all of the minced meat and finely chopped vegetables. Add the sesame oil, soy sauce, and salt pepper and stir well. You can check the taste by frying a small amount of mixture in a pan and add a little more condiments if required
Get the lumpia wrapper and put 1-2 tablespoons of the mixture in it. Fold the ends and roll tightly as you would a regular spring roll. Dab water on the ends of the lumpia wrapper to seal it properly.
In a shallow frypan, pour enough oil to reach a ½ inch depth and heat to 180 degrees or 350 Degrees Fahrenheit. Shallow fry the spring rolls over medium heat for 5-10 minutes or until crisp and golden brown, turning once during cooking to allow both sides to cook.
Serve with sweet chili sauce or ketchup.
Check out the recipe video on my youtube channel!
(Link coming out soon)
Lumpiang Shanghai is one of the recipes that made it into my cookbook! It'll be released next year so pre-order at chris@maputingcooking.com
Chris Urbano loves Filipino food and if you love it too, Don't forget to subscribe! http://bit.ly/1AZnqao and share this video, or follow at the links below:
www.maputingcooking.com (Find ALL the recipes from the show!)
FB: https://www.facebook.com/maputingcooking
Twitter: https://twitter.com/maputingcooking
Insta: http://instagram.com/maputingcooking
Get the newsletter: http://eepurl.com/PZeAH