Filipino Cuisine is a mixture of flavors and influences from different cultures. One of the interesting dishes that has an influence from other cultures is Chicken Curry. Curry is a well known dish in India because of its unique flavor especially with the use of turmeric powder that makes a good flavor to the dish. The Filipinos localized this dish and used Chicken added with vegetables and coconut cream for a creamy and delicious dish.
Try this one out at home and let me know what you think! Post a photo of your Filipino Chicken Curry at instagram and tag us (@maputingcooking) so we can feature it to our page.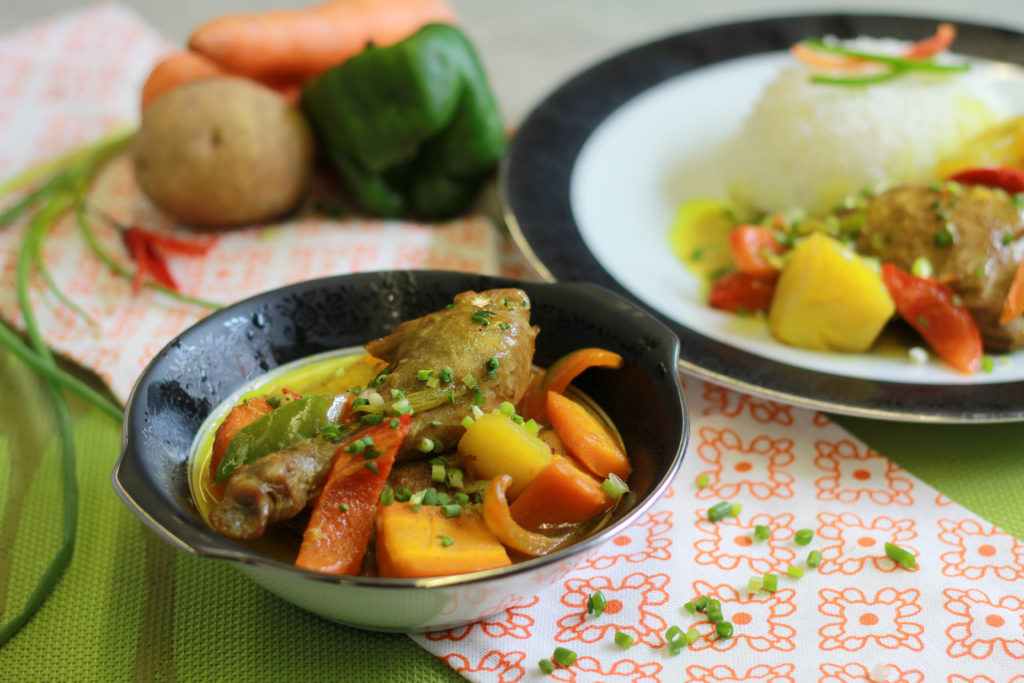 Filipino Style Chicken Curry Recipe
Ingredients
2 Tbsp Cooking Oil
3 cloves Garlic, minced
1 medium Red Onion, chopped
2 Tbsp Ginger, grated
1 stalk Celery, sliced
1 kilo Chicken, cut into portions (12 pcs)
3 pcs Potatoes, cut into chunks
2 pcs Carrots, cut into chunks
3 pcs Bay Leaf
3 tbsp Yellow Curry Powder or Paste
1 ½ cup Coconut Cream
1 cup Water
2 pieces Green Bell Pepper, sliced
2 tbsp Fish Sauce
To Taste Salt and Pepper
As needed Red Chilies
Procedure
In a pan, heat oil and sauté the garlic, onion, ginger and celery. Add in the chicken and cook until brown.
Follow the potatoes, carrots, bay leaf and curry powder. Mix until fully coated with the curry powder. Add in the coconut cream, fish sauce and water and let it simmer until the chicken is tender and the vegetables are cooked.
Add in the bell pepper and season to taste. You can add the red chilies according to your taste.
Serve over steaming white rice.
Watch my Filipino Chicken Curry Recipe video below:
If you liked this video, hit the thumbs up button and share it with our kabano and kababayans abroad! Help me spread the filipino food and food culture global.
Chris Urbano loves Filipino food and if you love it too, Don't forget to subscribe! http://bit.ly/1AZnqao and share this video, or follow at the links below:
www.maputingcooking.com (Find ALL the recipes from the show!)
FB: https://www.facebook.com/maputingcooking
Twitter: https://twitter.com/maputingcooking
Insta: http://instagram.com/maputingcooking
Get the newsletter: http://eepurl.com/PZeAH