Bicol is known for its spicy and gata/coconut milk dishes. One of the best gata based dishes they offer is Bicol Express. My recipe has lots of chili in it so prepare to have a burned tongue afterwards! (P.S you can always put more or less chili depending on how spicy you like your dish to be) Try this one at home!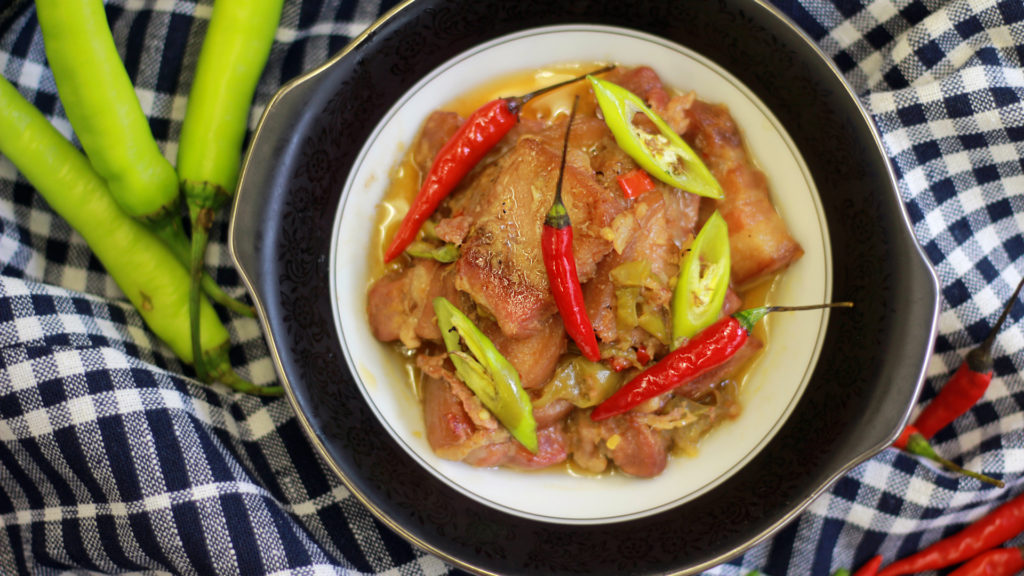 Spicy Bicol Express Recipe
Recipe type:
lunch/dinner
Ingredients
1 kilo Pork Belly (Liempo) cut into cubes
5 Tbsp Cooking Oil
1 whole Garlic, minced
1 medium Red Onion, chopped
2 Tbsp Ginger, grated
3 Tbsp Shrimp paste
1 cup Coconut Cream
1 cup Water
2-3 pieces/According to your preference Red Chilies, chopped
4 pieces Green chilies, sliced
To Taste Salt and Pepper
Procedure
Boil liempo in 2 cups water until soft and water is completely evaporated. Add in the cooking oil and let the meat crisp up until golden brown.
Sauté the garlic, onion and ginger until fragrant together with the crisp liempo. Add in the shrimp paste, coconut cream and water. Let it simmer.
Follow the chilies and reduce the sauce until thick. Season to taste and top with the fresh green chilies.
Check the recipe video here:
Chris Urbano loves Filipino food and if you love it too, Don't forget to subscribe! http://bit.ly/1AZnqao and share this video, or follow at the links below:
www.maputingcooking.com (Find ALL the recipes from the show!)
FB: https://www.facebook.com/maputingcooking
Twitter: https://twitter.com/maputingcooking
Insta: http://instagram.com/maputingcooking
Get the newsletter: http://eepurl.com/PZeAH
Suggestions on new recipes we should cook? Please tell us and we'd definitely consider them! Have a great day ahead!