Lumpiang Sariwa or Lumpiang Gulay is a combination of mixed vegetables and meat (if you prefer adding it in), wrapped in a lumpia wrapper, and topped with a sweet style sauce. This is a very healthy dish and it's better to cook it from scratch. Try cooking this at home!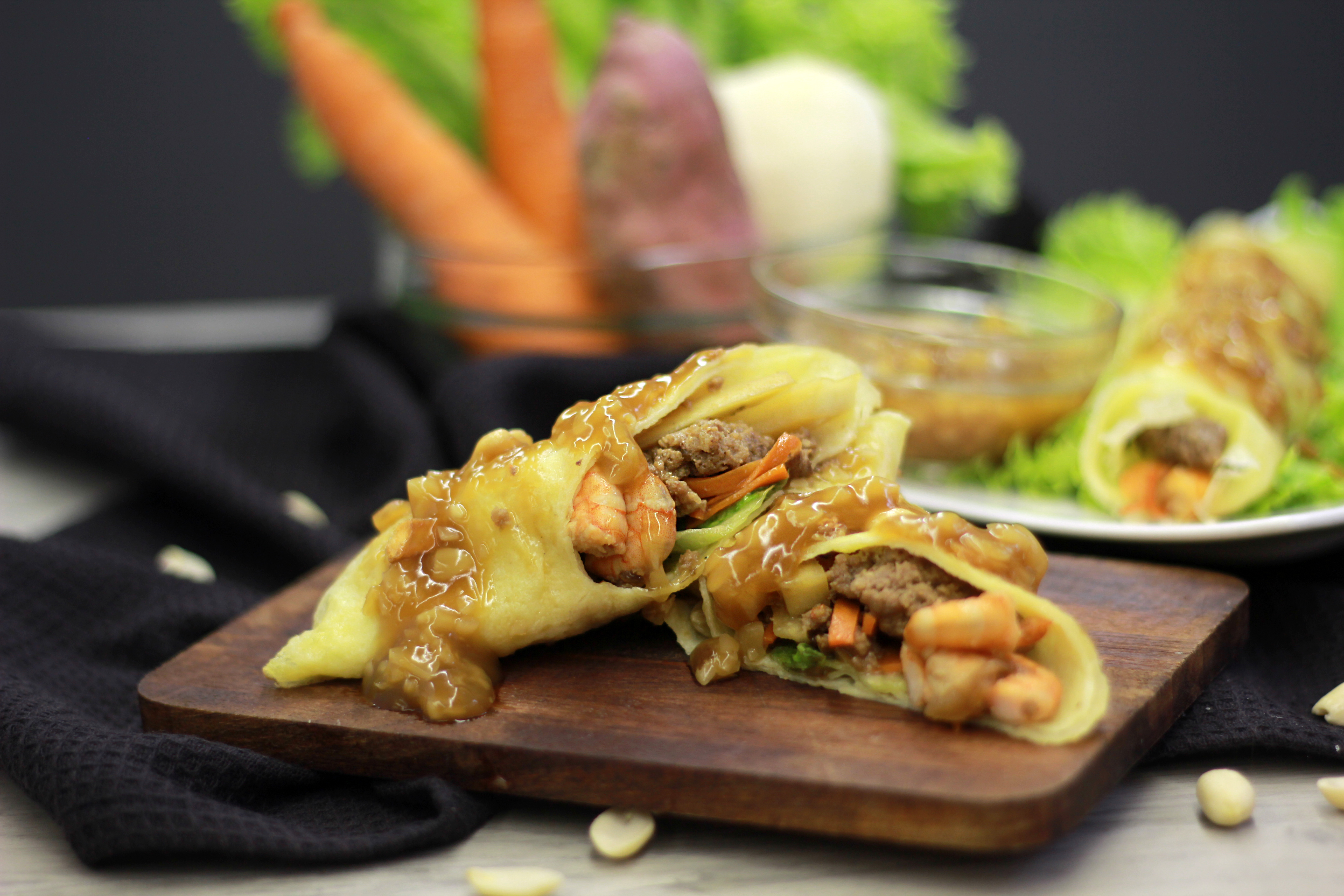 Lumpiang Sariwa Recipe (Lumpiang Gulay)
Ingredients
5 Tbsp Cooking Oil
3 cloves Garlic, minced
1 medium Red Onion, chopped
¼ kilo Ground Pork
¼ kilo Small shrimps, peeled
4 cups Ubod (Palm Heart), julienned
¼ cup Carrots, julienned
2 tbsp Salt and Pepper
To Taste Green Leas Lettuce, washed and trimmed
Sauce:
2 cups Water
¼ cup Soy sauce
¾ cup Brown sugar
½ tsp Salt
1 cup Unsalted Peanuts, ground
1 head Garlic, chopped
3 tbsp Cornstarch, diluted in ¼ cup water
Lumpia Wrapper:
1 cup Cornstarch
1 ½ cup Water
3 pcs Eggs, Beaten
1 tsp Salt
1 tsp Sugar
1 tsp Cooking Oil
As needed Cooking Spray
Procedure
Make the filling, heat oil and sauté garlic and onion. Add in the ground pork and shrimps and mix until cooked.
Add in the ubod, carrots and season with soy sauce, salt and pepper. Let it simmer until cooked. Set aside until cool.
Make the sauce. In a pot, combine the water, soy sauce, brown sugar and salt. Let it boil.
Once boiling, add in the peanuts and garlic. Let it simmer. Add the cornstarch slurry and mix until thick.
Make the wrapper. Combine all ingredients to make a batter. On a non stick pan, add ¼ cup of batter on an oiled pan and tilt to cover all sides. Let it cook over a low flame until the top part is dry. Gently flip it to the other side and transfer into a plate.
Gather all your ingredients. Lay the wrapper on a plate. Add a piece of lettuce and ¼ cup of the filling. Gently roll and pour sauce on top. You can top it with more toasted garlic and ground nuts.
For the Lumpiang Hubad, omit making the wrapper. Just plate the filling and top with sauce.
Watch the recipe video:
Chris Urbano is excited to share with you his upcoming cookbook! If you want to grab a copy, email chris@maputingcooking.com .
Don't forget to subscribe to the channel if you like this video, and give us a thumbs up!
Follow us on Social Media for more Filipino Food Updates
Get the recipe – http://maputingcooking.com/recipe/okoy/
FB: https://www.facebook.com/maputingcooking
Twitter: https://twitter.com/maputingcooking
Insta: http://instagram.com/maputingcooking
Get the newsletter: http://eepurl.com/PZeAH