If you just came home from work and you're hungry but you have nothing to eat, this recipe is for you! Pancit Canton Guisado is one of the Pancit variations here in the Philippines that is very easy to cook and it uses simple ingredients that you can find in your pantry. This dish uses egg noodles added with different vegetables- cabbage, carrots, beans, and celery. You can also put any vegetable in this recipe depending on how you'd like it to be.
A fast, convenient, and very delicious Pancit Canton Guisado recipe is for you! Try this one at home and don't forget to send us your photos on facebook and instagram (@maputingcooking)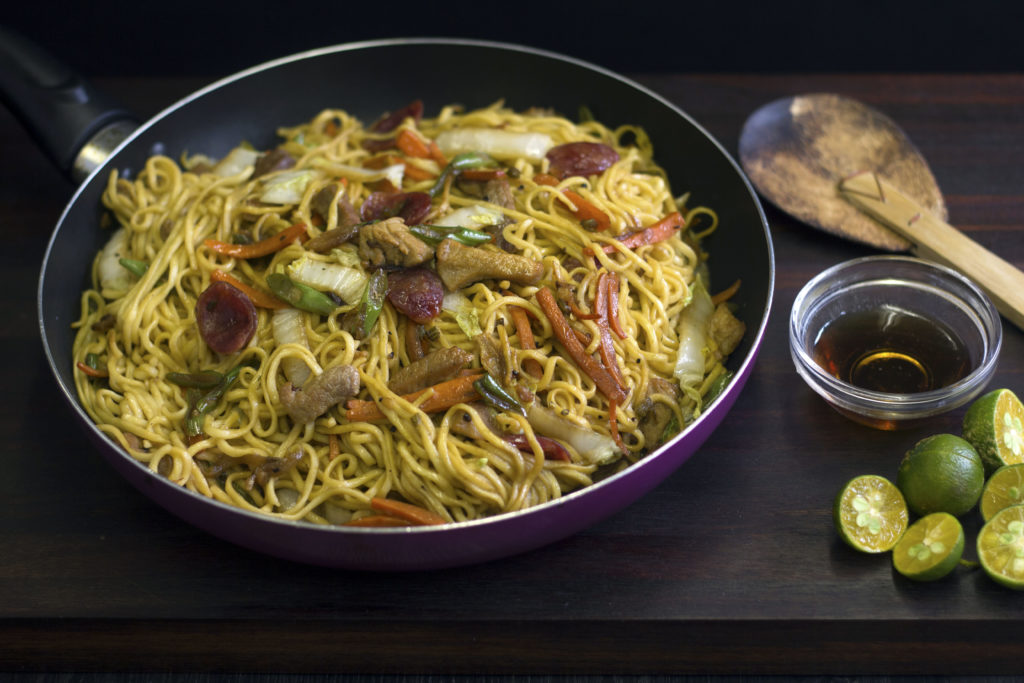 Pancit Canton Guisado Recipe
Recipe type:
lunch/dinner
Ingredients
250g of fresh egg noodles (or 2 packets of instant noodles)
250g pork meat, sliced thinly
1 Chinese sausage sliced diagonally (optional)
3 cloves garlic minced
1 medium onion sliced
½ cup celery stick chopped
½ cup green beans sliced diagonally
½ cup carrot julienned
½ cup cabbage sliced thinly
2-3 cups chicken stock or broth
3 tbsp. soy sauce
1 tsp fish sauce
salt and pepper to taste
Cooking oil a required
Procedure
In a wok, or deep frypan, sauté garlic and onion in a little cooking oil until fragrant.
Add the sliced pork and stir fry for 5-6 minutes or until cooked through. If using it, add the sliced Chinese sausage, let it sweat and continue cooking for 2 minutes.
Add in the green beans, carrot, celery and cabbage in order of their cooking time and stir frying the whole time.
Add the fish sauce, soy sauce and some pepper to taste and stir-fry for another minute or two – be careful not to overcook the vegetables. Remove from heat and set aside.
In another saucepan, bring 3 cups of chicken stock to the boil. I normally use a organic, real chicken stock powder for this, but in a pinch you can use the ones from the instant noodles). Cook for 2-3 minutes or until softened. Drain the noodles.
Combine noodles and the stir-fried meat and vegetables and toss well until well distributed.
Serve hot with some fish sauce on the side, and fresh calamansi to squeeze over the top just prior to eating.
Watch the recipe video here:
Chris Urbano loves Filipino food and if you love it too, Don't forget to subscribe! http://bit.ly/1AZnqao and share this video, or follow at the links below:
www.maputingcooking.com (Find ALL the recipes from the show!)
FB: https://www.facebook.com/maputingcooking
Twitter: https://twitter.com/maputingcooking
Insta: http://instagram.com/maputingcooking
Get the newsletter: http://eepurl.com/PZeAH
Pre- order Chris Urbano's cookbook: chris@maputingcooking.com