Laing will always be a part of my top 5 favorite dishes. This dish is a creamy veggie dish that uses Taro Leaves as its main ingredient. Make sure to use dried taro leaves because eating it raw will cause itchyness to your throat. Add the coconut cream and red chilis in it for a creamy and spicy kick. Try this one at home.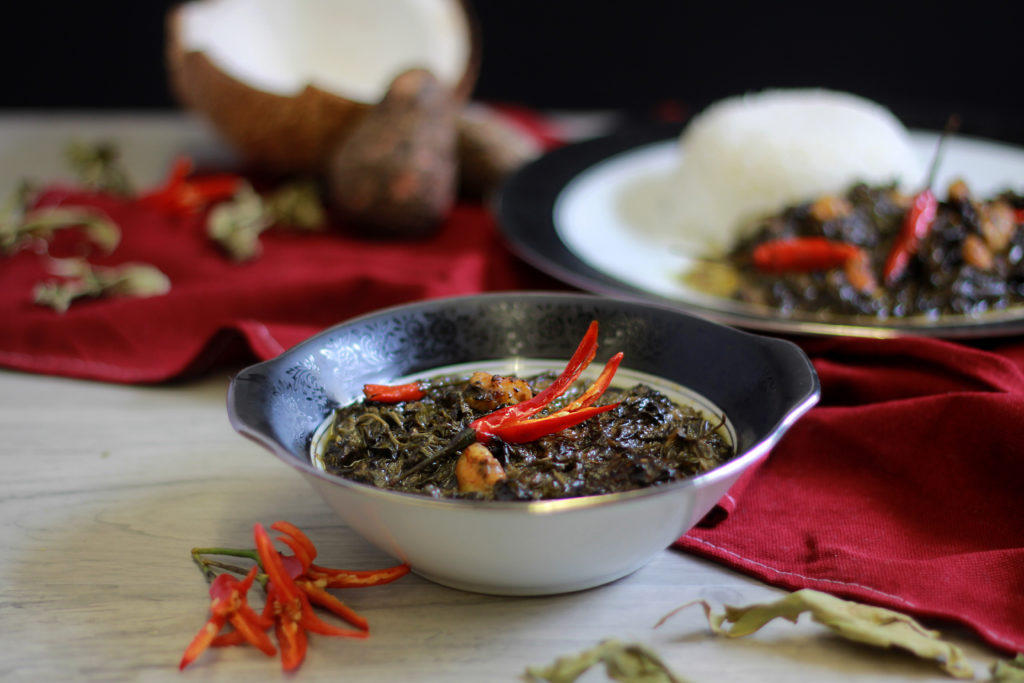 Spicy Bicol Laing Recipe
Recipe type:
Lunch/Dinner
Ingredients
¼ cup cooking oil
2 tbsp garlic, minced
½ cup red onion, chopped
2 tbsp ginger, grated
3 tbsp shrimp paste
1½ cup coconut cream
150 grams dried gabi (taro) leaves
½ cup water
2-3 pieces/according to your preference red chilis
to taste salt and pepper
Procedure
Heat up your oil on a medium heat in a deep frypan and sauté your garlic, onions, and grated ginger. Once the onion is translucent and the ginger is fragrant, pour in the shrimp paste and the coconut cream. Simmer for 5 minutes.
Add in the taro leaves and water. Cover with lid and simmer for 30 minutes on medium heat until the leaves are tender.
Once the leaves are soft, add the chili and adjust the taste by adding salt and pepper according to preference. Simmer for another 5 minutes.
Plate it up and serve over hot and steaming rice.
Watch the recipe video:
For more Filipino Food recipes, pre-order my cookbook! Email me at chris@maputingcooking.com
If you liked this video, hit the thumbs up button and share it with our kabano and kababayans abroad! Help me spread the filipino food and food culture global.
Chris Urbano loves Filipino food and if you love it too, Don't forget to subscribe! http://bit.ly/1AZnqao and share this video, or follow at the links below:
www.maputingcooking.com (Find ALL the recipes from the show!)
FB: https://www.facebook.com/maputingcooking
Twitter: https://twitter.com/maputingcooking
Insta: http://instagram.com/maputingcooking
Get the newsletter: http://eepurl.com/PZeAH