Tapa Brekkie Burrito
What I love eating in Australia is the handy, convenient, and delicious brekkie roll. So I decided to make a Filipino version in which I added the famous pinoy breakfast food Tapa! Aside from eating it with eggs and fried rice, you can make it into a breakfst take out food like this one.
Try it out at home and let me know what you think!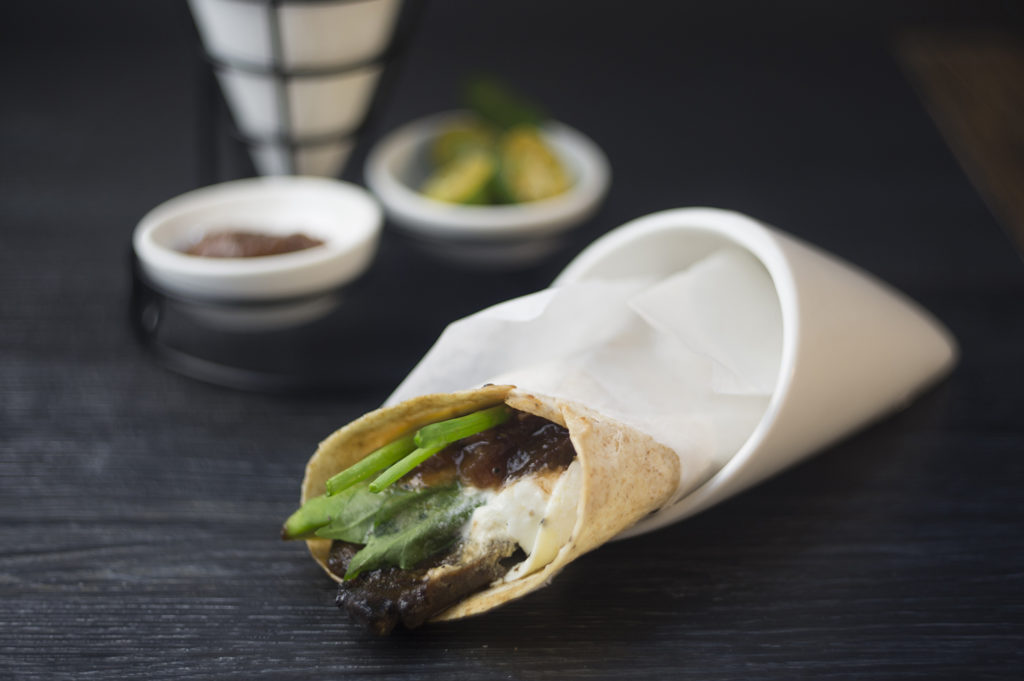 Tapa Brekkie Burrito
Ingredients
As needed Olive Oil
½ kilo Marinated Beef Tapa Slices
4 eggs
1 pc Avocado, sliced thinly
4 pcs. Tortilla wrapper, medium size
4 tsps tomato chutney or relish
4 tbsp fresh yoghurt
4 pcs fresh calamansi (lime may be substituted)
Fresh water cress or chilli leaves
Procedure
In a shallow frypan, heat the oil and fry your tapa slices, until cooked through and the marinade is cooked off. Set aside.
Warm the tortillas on low heat in an oven, or microwave.
Crack a single egg in a small fry pan with a little olive oil. Quickly scramble it and season with salt and pepper, cook on one side only until it is just cooked through.
Lay a single tortilla on a chopping board. Place the thin cooked disc of scrambled egg on the tortilla.
Place two or three pieces of tapa on top of the eggs, along with 1 tablespoon of yoghurt, 1 teaspoon of relish, and two or three slices each of tomato and avocado. Place a little water cress, or a stem of chilli leaves on top.
Using a small strainer, Squeeze a fresh calamansi or a lime wedge over the top.
Roll the tortilla as you ordinarily would for a burrito. Tucking one end in and leaving the other end open. Roll in parchment paper and twist of the ends to hold the burrito in shape when eating.
Don't forget to subscribe to the channel if you like this video, and give us a thumbs up!
Follow us on Social Media for more Filipino Food Updates
Get the recipe – http://maputingcooking.com/recipe/okoy/
FB: https://www.facebook.com/maputingcooking
Twitter: https://twitter.com/maputingcooking
Insta: http://instagram.com/maputingcooking
Get the newsletter: http://eepurl.com/PZeAH