This dish is shared to me by my friend Eduardo, a Filipino living in Australia who won the first Filipino Masterchef  competition which I hosted in Australia's Top End city of Darwin. He told me the story of how Laing Linguine was born. One day he wanted to make laing but saw that there was no rice available in his kitchen and all he has was a pack of Linguine. He remembered his Aussie friend's favorite pasta-Pesto. And so he thought of making laing as a pasta sauce.
A combination of local Bicolano dish and an Italian pasta in one dish! It's delicious and easy to make at home. Try it out, kabano!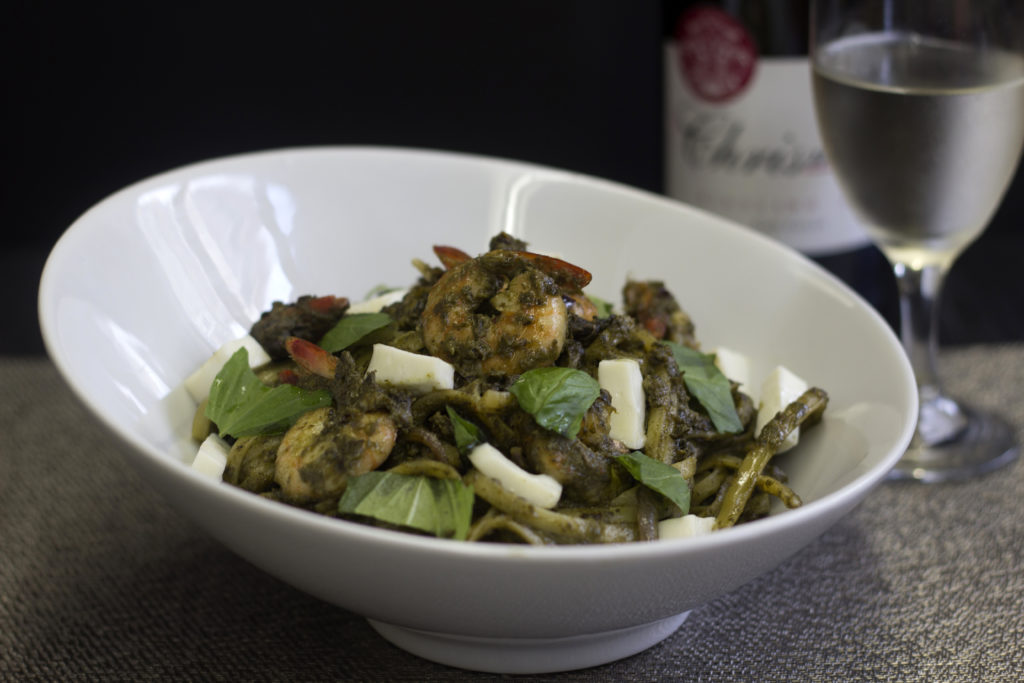 Taro Leaves Pesto Linguine | Laing Linguine Recipe
Recipe type:
Lunch/Dinner
Ingredients
¼ kg gabi (taro) leaves, dried
250 grams medium shrimp, peeled
4-6 pcs anchovy fillets in oil
3 cups coconut cream
250 g linguine pasta
1 tbsp chili flakes
100g pili nuts
1 lemon
¼ cup olive oil
¼ cup parmesan cheese, grated
1 tsp crushed fresh ginger
4 cloves of fresh garlic, finely diced
1 medium onion
100g kesong puti (optional)
salt and pepper
Procedure
In a shallow, medium sized frypan, preheat 1 tbsp of olive oil. Fry the peeled shrimp on high heat for 2 minutes each side or until just cooked. Remove and set aside.
In the same pan, sauté the garlic, ginger and anchovies over medium heat. Throw in the gabi leaves. Add 1 cup of the coconut cream and simmer for 5 mins. Add another cup of coconut cream and simmer for another 10-15 minutes on low heat until the leaves are soft and pulling apart. Set aside to cool down.
In a food processor, or using a suitable container and an immersion or stick blender, combine the cooked gabi, pili nuts, lemon zest, lemon juice, olive oil and parmesan cheese and blend on moderate setting until well-combined.
In a large pot, bring salted water to the boil and cook your linguine for 10 – 12 minutes or until al dente. Drain the water with a strainer. Set aside.
Return the cooked pasta to the pot and add in the gabi pesto, the prawns, another cup of coconut milk, another tablespoon of olive oil, and 2 teaspoons of chilli flakes. Toss until the pasta is completely covered with the sauce. Simmer it for another 2 – 3 mins or until the sauce coats all the pasta.
Transfer on a plate and garnish with kesong puti and sprinkling of chilli flakes, and some fresh basil if you have any handy.
Lumpiang Shanghai is one of the recipes that made it into my cookbook! It'll be released next year so pre-order at chris@maputingcooking.com
Chris Urbano loves Filipino food and if you love it too, Don't forget to subscribe! http://bit.ly/1AZnqao and share this video, or follow at the links below:
www.maputingcooking.com (Find ALL the recipes from the show!)
FB: https://www.facebook.com/maputingcooking
Twitter: https://twitter.com/maputingcooking
Insta: http://instagram.com/maputingcooking
Get the newsletter: http://eepurl.com/PZeAH