Turon is a famous afternoon snack in the Philippines and you can see a street vendor on every block in Manila. It's a basic concoction- jackfruit, bananas, sugar, and wrapped in a lumpia wrapper. But my version of this has strawberries in it! You can do tweaks on this delicious snack, kabano! Follow my recipe below and enjoy eating this with your family and friends.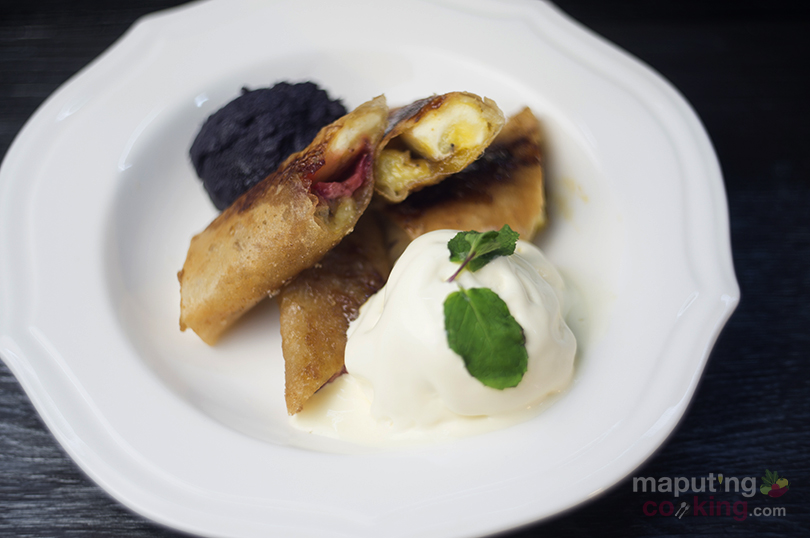 Plantain and Jackfruit Dessert Spring Rolls | Turon Recipe
Ingredients
10 pcs saba banana, sliced in half lengthwise
½ cup brown sugar
½ cup jackfruit, sliced (optional)
½ cup fresh strawberries, slices (optional)
20 pcs lumpia wrapper (spring rolls wrapper)
as needed cooking oil, for frying
Procedure
In a clean space or a large plate, place one lumpia wrapper. Take a slice of banana and roll in brown sugar. Place it about ⅓ of the way up the lumpia wrapper.
Add some sliced jackfruit or strawberries parallel to the piece of banana.
Fold the lumpia wrapper over the fruit, and pull it back toward you, tightening and compacting the fruit inside. Fold the ends in and roll the rest of the turon, as you would an ordinary spring roll. Using your finger, dab a little water as required to to help seal the turon.
Once you've rolled all the turon. Sprinkle 2 tablespoons ofbrown sugar over the top of them.
In a shallow fry pan, add about half an inch of cooking oil and pre-heat to 350 F/ 180 C
Shallow fry the turon for 5-7 minutes over medium heat, turning as required until all sides are golden brown. Remove from the pan and place on paper towel, or a wire rack to drain excess oil
Serve on a plate with vanilla ice cream and ube jam on top.
Watch the recipe video here:
This recipe is also included in my upcoming cookbook that is to be released next year! Keep in touch and send us a message at chris@maputingcooking.com if you're interested to get a copy.
Don't forget to subscribe to the channel if you like this video, and give us a thumbs up!
Follow us on Social Media for more Filipino Food Updates
Get the recipe – http://maputingcooking.com/recipe/okoy/
FB: https://www.facebook.com/maputingcooking
Twitter: https://twitter.com/maputingcooking
Insta: http://instagram.com/maputingcooking
Get the newsletter: http://eepurl.com/PZeAH